By Dermot O'Gorman, CEO, WWF-Australia
2020, a year like no other - a year that has challenged us all in profound ways - is coming to a close. It has been very tough, yet with the collective response of the vast majority of Australians to these multiple crises, I find myself filled with enormous optimism about what is possible.
Here's why - 2020 began with the worst bushfires in living memory, offering a window to the future that nobody wants: 33 human lives and 3,094 homes tragically lost, close to 3 billion animals killed or displaced and 17 million hectares of forest and bushland razed. Climate change arrived right on our doorstep and it was horrific.
As a nation, we were all touched by last summer's bushfire crisis. We held our collective breath for the best and witnessed the dramatic footage of firefighters risking their lives to save properties, of people being evacuated beneath apocalyptic skies, and of everyday heroes rescuing koalas from the blackened wreckage of their forest homes.
But in the aftermath, I also had an immense sense of pride in our communities. It confirmed what I've always known: that when things get tough, Australians dig deep. We all care passionately about our continent's distinctive animals and their habitats.
Last week I was honoured to visit Bega and meet with incredible Indigenous rangers at the Local Aboriginal Land Council (LALC) working to manage their Country through Traditional fire management practices.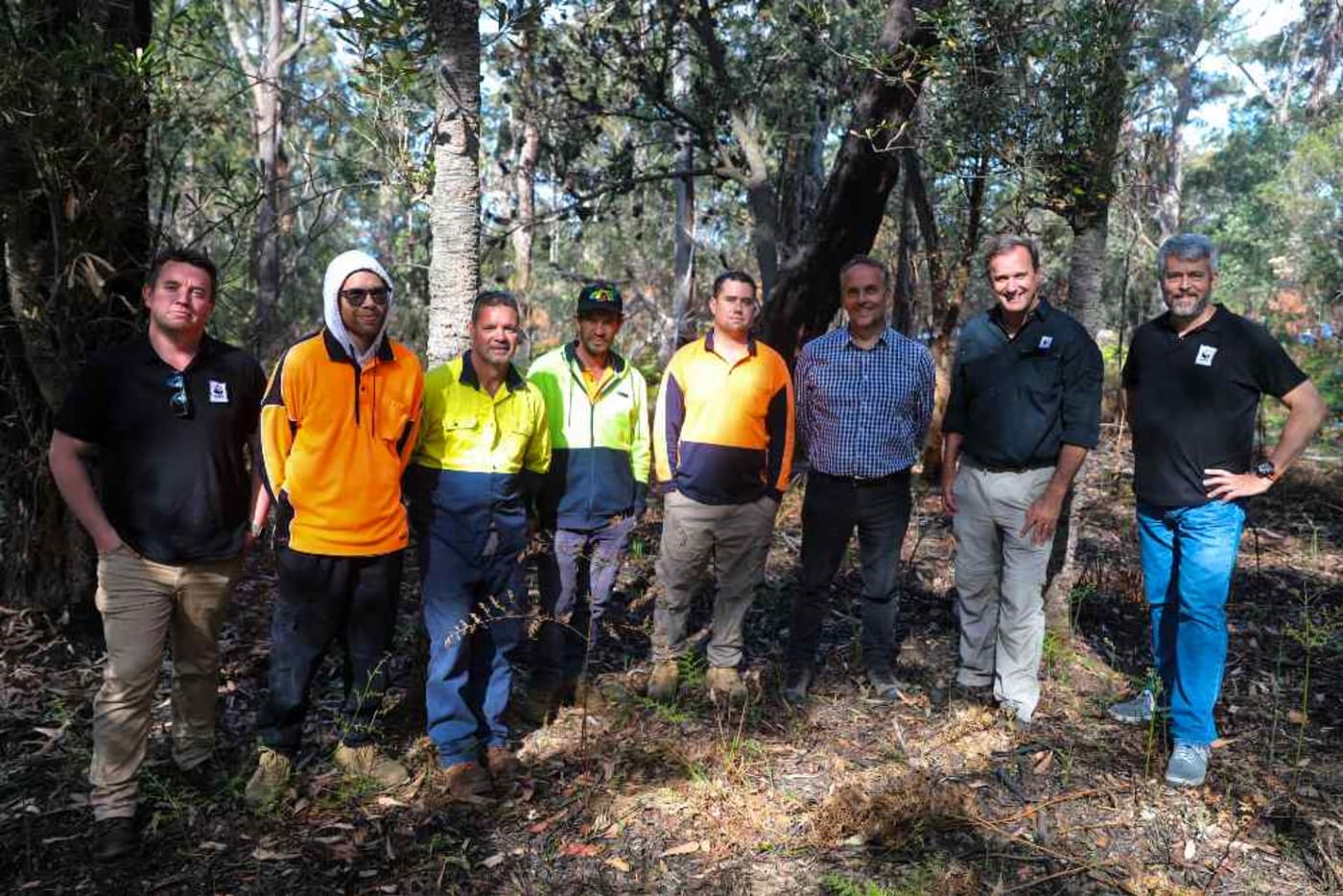 Chris, George and Peter from Bega LALC took me to a site where cultural burning had been conducted over July - August this year. These first burns aim to "re-set" the Country. Here, the earth was sandy and thatchy - as opposed to scorched and dry - which has enabled native grass to grow again. Thanks to the LALC's efforts, potoroos and bandicoots were spotted in the area soon after the burn. The team spoke with such pride about their work on Country and the importance of being able to share this vital knowledge with younger generations.
"It's part of our culture, looking after our land. We call it our mother because she looks after us and we've always looked after her from the time of creation. It's hard to describe the feeling especially when you haven't been able to do it for over 200 years. And it's hard to get the knowledge too and put it back into the land. But now things are changing and we as a crew thank Uncle Victor Steffensen and his two elder mentors for their help and knowledge," said George.
Chris and Peter shared that it was heartening to have received so much support from the community for their work. The Bega LALC manage 1,800 ha of land and as a result, cultural burning can also play a pivotal role in protecting the community property and lives. However, long-term funding is required to deliver an ongoing cultural burning and land management program that enables the sharing of Indigenous knowledge to increase the safety of communities and protect wildlife.
This partnership is just one example of what can be achieved when we work together. In the days and months that followed the catastrophic bushfires, your generosity enabled us to rapidly commit $8 million to some 40 projects - like the Bega LALC - that provided immediate emergency treatment for wildlife and communities on the frontline. Your messages of support rallied WWF-Australia staff and our many tireless partners, and together we stood resolute and strong.
But even before all the fires had been safely extinguished, another crisis - COVID-19 - hit our shores. This global pandemic could easily have overshadowed the bushfires completely.
However, with our country in lockdown, WWF-Australia took the opportunity to both learn lessons from the bushfire crisis and to design a blueprint towards recovery. Throughout the winter, we undertook a listening project with fire-affected and Indigenous communities and heard first-hand accounts about what it was like during those terrifying months. Many people shared their stories of heartbreaking loss, their fears, but also their desires for a secure future.
Winifred from Bega told us of her anxiety about "change that's not happening" in response to documented global warming, and Victor from Cairns concluded that regeneration of Country cannot happen without the regeneration of people. "There is hope and it's going to take a lot of work, but it's a lot of exciting work," he told us.
Their experiences and dreams have helped shape our groundbreaking vision for the future, Regenerate Australia - a stronger, more enduring future for people and nature.
Because one thing we've all learnt from 2020 is that business-as-usual is not going to deliver now, or in the future. Our planet, our landscapes, our animals, even our health is increasingly vulnerable. We cannot simply rely only on others, like governments to take action; we have to step up and take action ourselves.
This month WWF-Australia launched the largest and most innovative wildlife and landscape regeneration program in Australia's history - a daring $300 million vision for kick-starting our recovery.
Regenerate Australia is a blueprint for restoring habitats and animal populations, rejuvenating bushfire-impacted communities, boosting sustainable agriculture and future-proofing our continent for the natural disasters to come.
It is centred on four key initiatives:
• KOALAS FOREVER: doubling the number of koalas on Australia's east coast by 2050, by creating new koala corridors to improve and extend their protected habitat, advocating for stronger laws and pushing for the Greater Koala National Park. In doing so, we'll also help a host of other species.
• TOWARDS TWO BILLION TREES: protecting and restoring vast tracts of forest and woodland, and redoubling our efforts to halt biodiversity loss.
• RENEWABLES NATION: switching Australia to a low carbon future to insulate Australia from the more frequent natural disasters scientists predict will accompany climate change. We aim to fast-track our country's adoption of renewable energy and help us become a renewable energy export powerhouse.
• INNOVATE TO REGENERATE: mobilising the greatest minds in Australia and around the world through a series of innovation challenges to discover the brightest solutions for future-proofing Australia. Then we'll leverage financial support for the very best solutions.
Building more resilient communities and landscapes is a job for all Australians. Resilience requires collaboration with a multitude of partners, including local communities, governments, Traditional Owners, NGOs, scientists, businesses, innovators, investors and foundations. And of course, most importantly, you.
Having worked as a ranger in Australia, helping to fight bushfires and safeguard threatened animals, I know that on-ground actions are a powerful force for change. I have also witnessed this first-hand with the revival of declining species, like the humpback whale and giant panda populations. We can bend the curve that delivers a new deal for people and nature. With your continued support, our ambitious goals to Regenerate Australia and secure populations of koalas, as well as a host of other species, are achievable.
Together, we can transform our country into a renewable powerhouse, the envy of the world, and mobilise innovative thinking and practices to address the complex environmental challenges of tomorrow. Now that is a vision to be optimistic about.
At a time of great uncertainty, WWF's vision for Regenerate Australia is designed to provide the hope we all need at this time of crisis. I am confident and proud of what we have and can achieve together.