After an absence of more than a century, 40 furry ambassadors for conservation have received an emotional welcome home on the southern Yorke Peninsula, in South Australia. And they're positively digging being back.
The much-anticipated return of the brush-tailed bettong (also known as the woylie) was years in the making and represents a major milestone in the Marna Banggara project – an ambitious rewilding plan led by the Northern and Yorke Landscape Board and proudly supported by WWF-Australia and a host of other partners. Their homecoming lays the groundwork – quite literally – for the return of several other endangered species that once shared this spectacular landscape.
Until now, the industrious bettong had survived only in two pockets in southwest Western Australia, on islands off the South Australian mainland and Western Australia and in fenced sanctuaries. Feral animals introduced since European settlement, especially cats and foxes, had exacted a terrible toll.
Although small – weighing in at no more than 1.5 kilograms – the bettong is an environmental heavyweight. As it snuffles among tree roots and leaf litter in search of underground tubers and fungi, it functions like a nocturnal gardener, aerating the soil and helping to spread seeds and fungal spores. By promoting plant growth, it plays a critical role in maintaining ecosystem balance. What scientists and conservationists call a soil engineer.
Like most conservation projects, the return of the bettongs was the culmination of years of wonderful teamwork behind the scenes. For more than a decade the Northern and Yorke Landscape Board has partnered with Traditional Owners, land managers and community groups dedicated to achieving Marna Banggara – "healthy, prosperous Country" in the words of the local Narungga People.
It all started with the management of foxes, feral cats and rabbits across 170,000 hectares of Yorke Peninsula. Then, the team negotiated to translocate a group of bettongs from Western Australia. However, COVID-19 border closures this year forced us to look closer to home – to a population on nearby Wedge Island, in the Spencer Gulf. And so it was, in mid-August, that a very special aerial mission unfolded.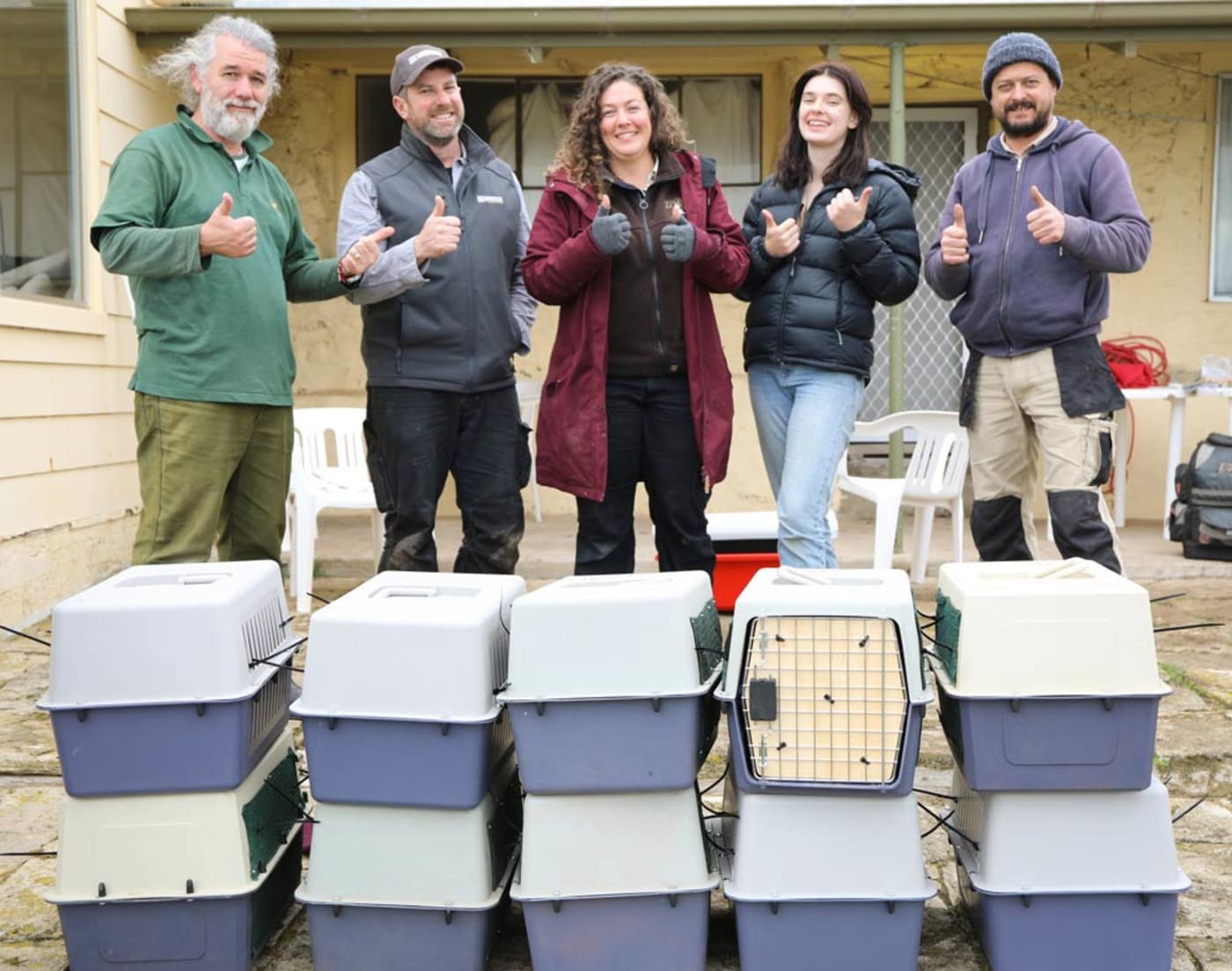 Dr Ian Smith (Zoos SA), Derek Sandow (Northern and Yorke Landscape Board), Dr Liberty Olds (Zoos SA), Chloe Frick (University of Adelaide) and José Paim de Bruges (landholder) on Wedge Island on their mission to capture brush-tailed bettongs.
After flying to the island, wildlife experts and veterinarians spent a sleepless 24 hours trapping bettongs, tempting them with a tasty midnight snack of peanut butter, honey and oats.
All animals captured then underwent health checks to identify the most suitable individuals. They not only needed to be healthy and disease-free, with a good chance of survival; we also needed a good ratio of males to females to ensure breeding success.
As a new day dawned, 12 males and 28 females were ready for their next adventure, with some fitted with VHF radio collars.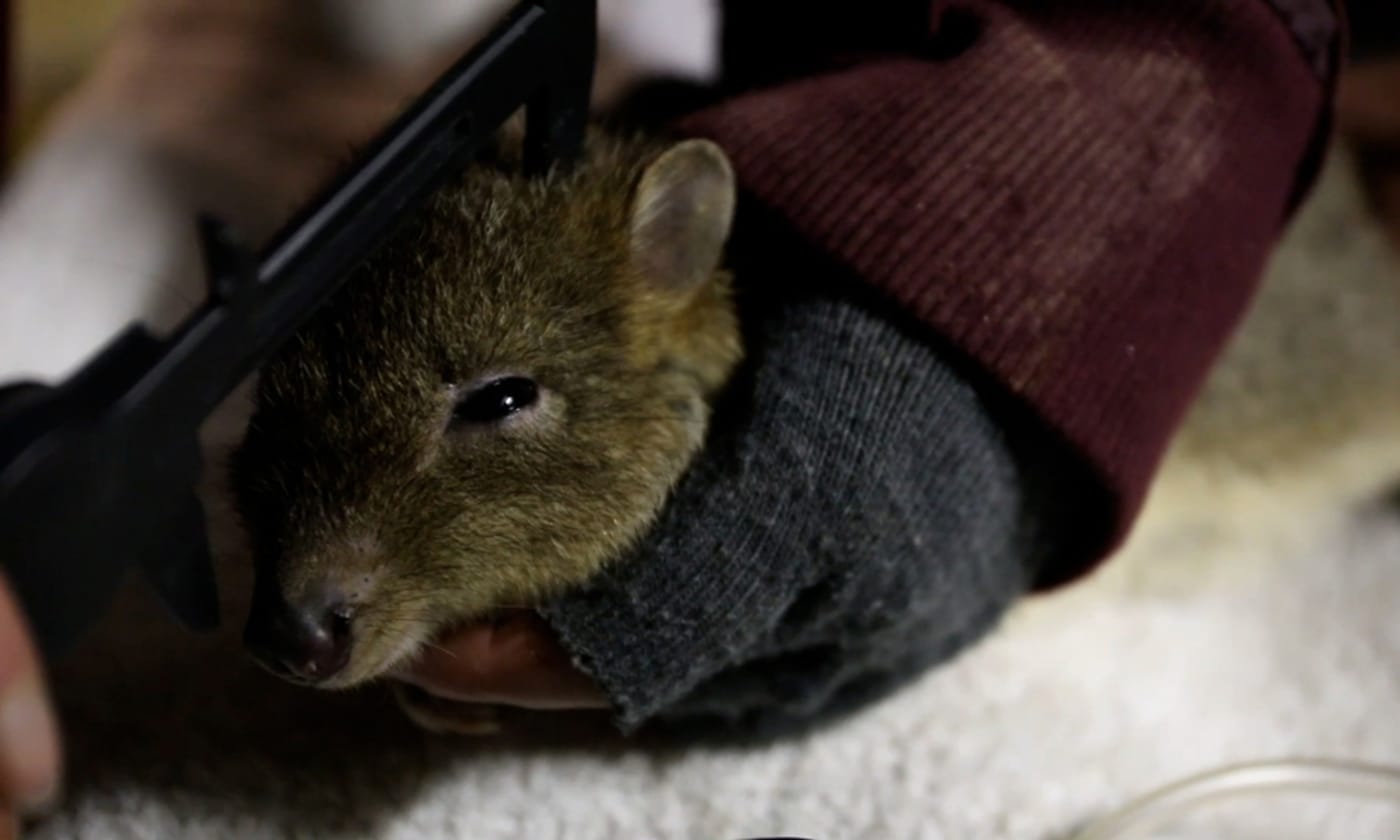 A Wedge Island brush-tailed bettong gets a health check from the team.
A new generation takes flight
After a hearty breakfast of corn, potatoes and mushrooms, the bettongs were secured in individual cloth bags inside robust pet packs to ensure protection in transit. The daytime transfer – when the bettongs would normally be hiding or sleeping – meant they were calm during the short flight.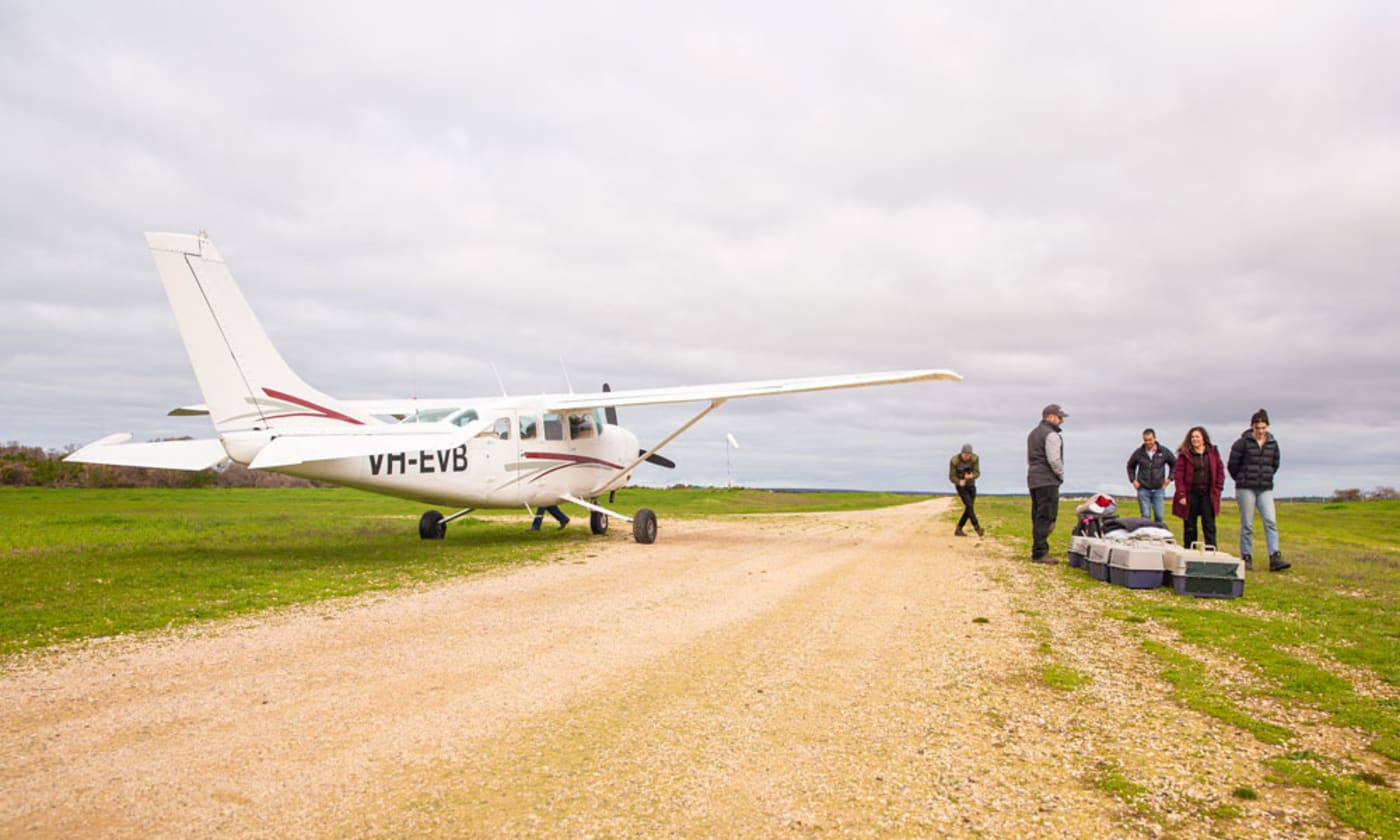 Touch down! The bettongs safely land on Yorke Peninsula.
Then, after touching down safely on Yorke Peninsula and being transported to Dhilba Guuranda-Innes National Park, the bettongs received the ultimate greeting from the Narungga People, who have called the peninsula home for thousands of years.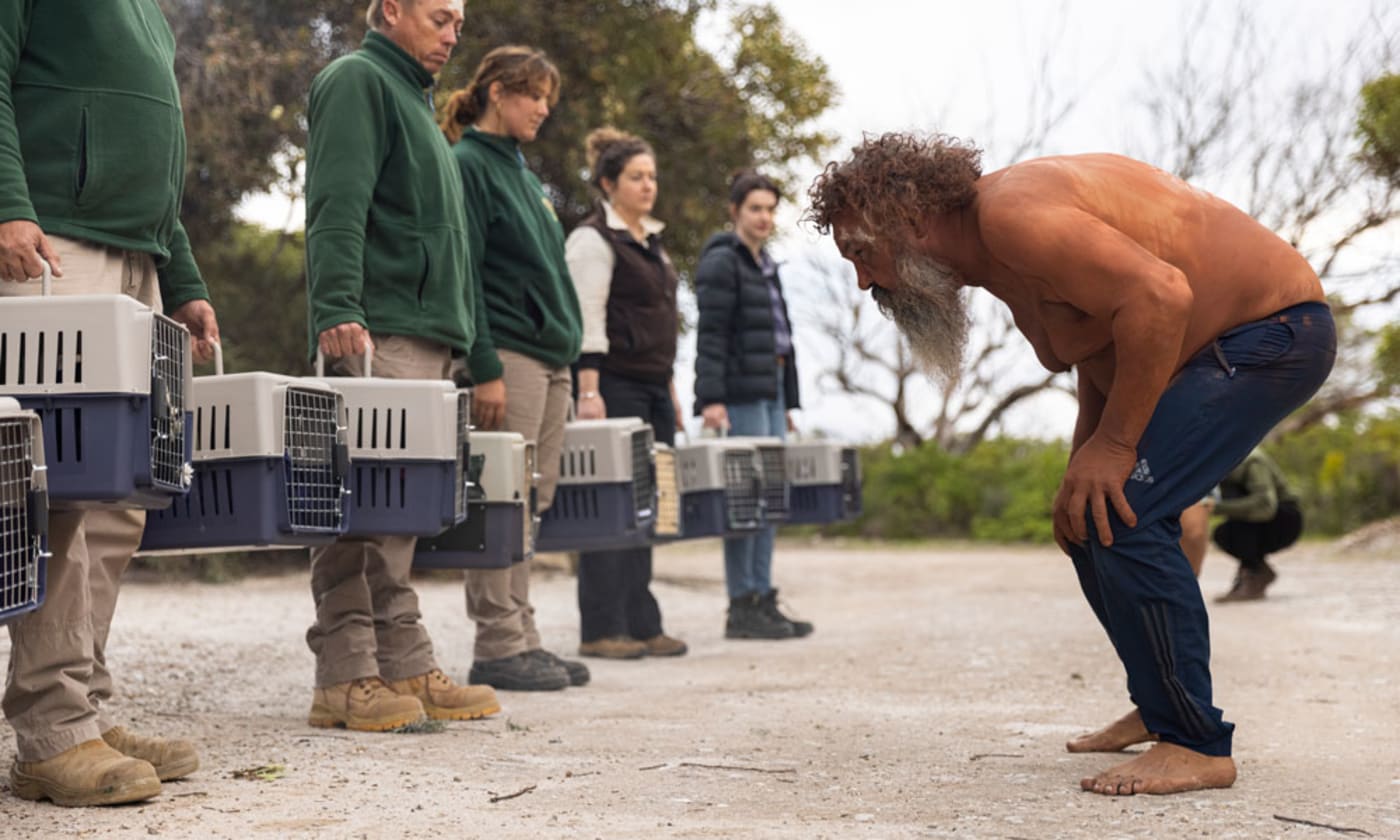 A traditional smoking ceremony is performed by Narungga Elder Quenten Agius to welcome the brush-tailed bettongs home on Country.
The old people still remember the stories of these long-lost animals and eagerly welcomed them back with a traditional smoking ceremony and song that Narungga Elder Quenten Agius said "hadn't been found for a while", "so they would feel comfortable in their Country again".
At dusk, the bettongs were released into two areas of the park. With temperatures on the peninsula now warming up, and good grass growth, the timing and season were perfect. They'll have plenty of shelter and food to support their new life on the mainland.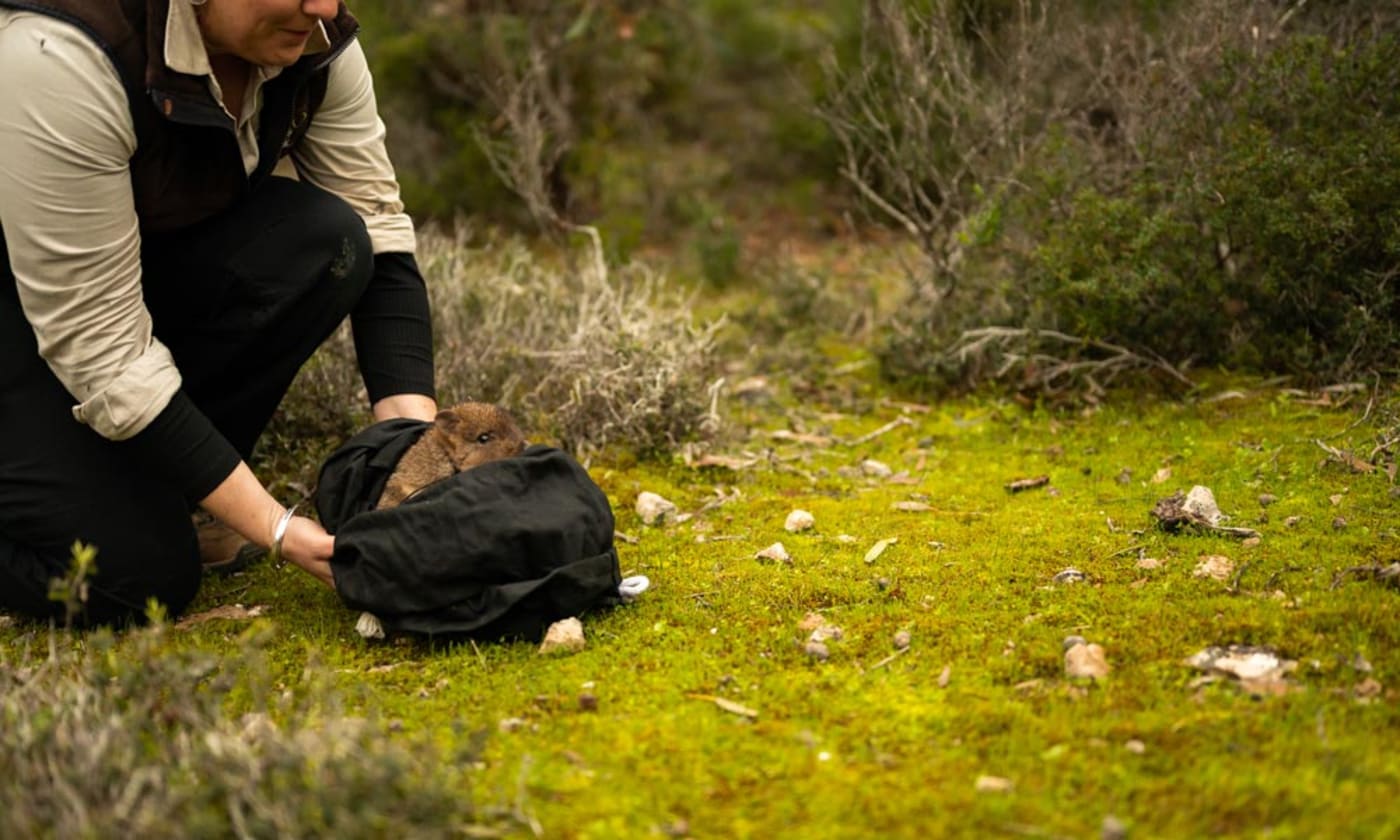 One of 40 pioneering brush-tailed bettongs released in Dhilba Guuranda-Innes National Park on Yorke Peninsula.
As momentous as the Wedge Island bettong retrieval was, it's but a taste of what's to come. When permitted, these trailblazers will hopefully be joined by West Australian cousins, to bolster numbers and genetics.
For now, University of Adelaide PhD student Chloe Frick, together with staff from the Northern and Yorke Landscape Board and National Parks and Wildlife Service SA will keep a close eye on the newcomers, monitoring their progress and impact. Chloe will use three newly erected telemetry radio towers to track them daily for the next six weeks and less frequently after that.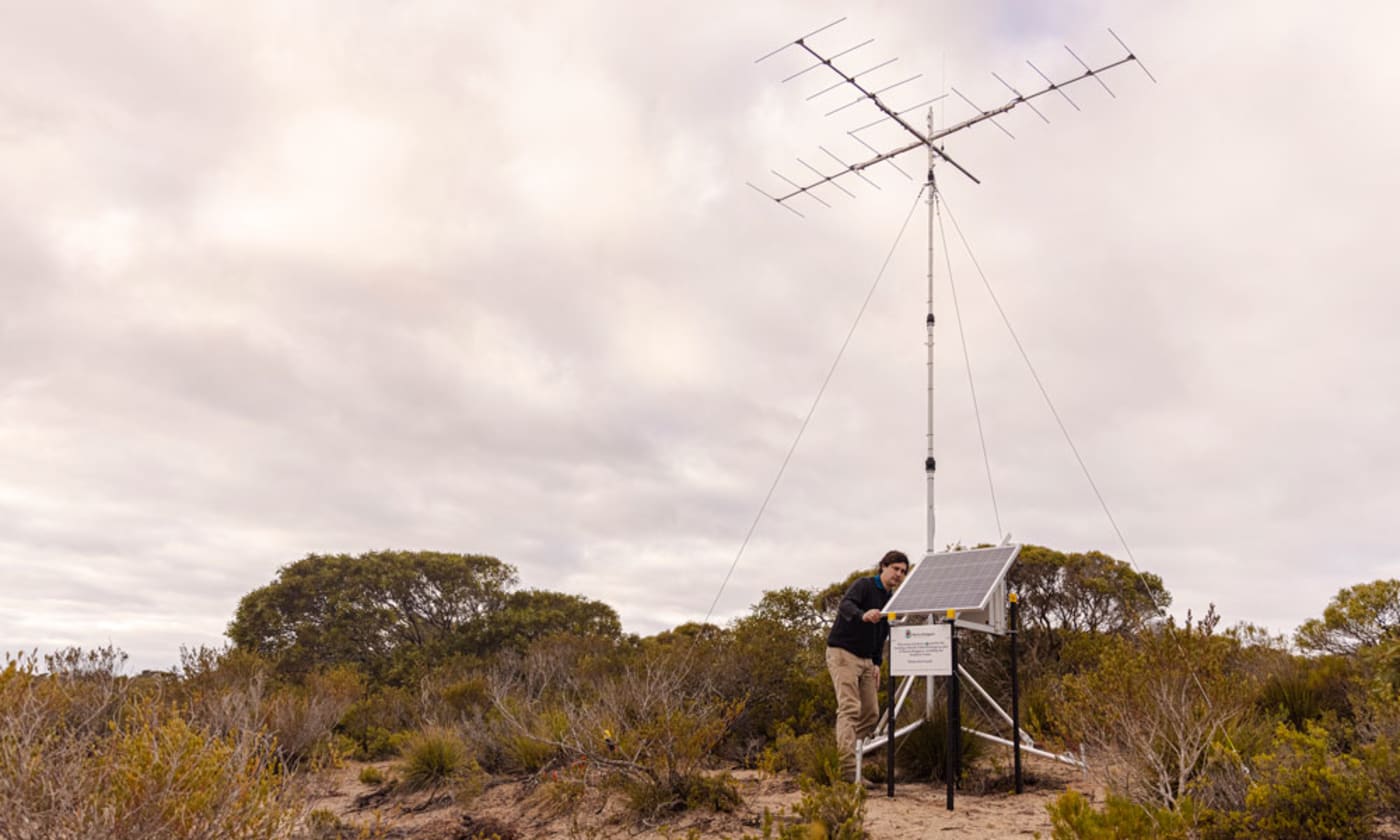 Max Barr, Marna Banggara Project Manager inspects one of three newly erected telemetry towers at Dhilba Guuranda-Innes National Park.
What we learn will help us guide the next exciting stages of the Marna Banggara project. Because the bold rewilding plan doesn't stop with bettongs.
Over the next 20 years, we're looking to bring back other endangered locally extinct species, including southern brown bandicoots, red-tailed phascogales and even quolls. One by one, they'll enjoy a similar homecoming as we carefully rebalance the needs of the animals, the landscape and the people who share it.
We're thrilled the bettongs are back where they belong, and settling in well. These gorgeous marsupials can breed two to three times a year, and with half of the jetsetting females already carrying pouch young, it was the ultimate 'two-for-one' deal. We're looking forward to seeing the next generation of bettongs bouncing around Yorke Peninsula in just a few months' time.
This project is jointly funded through the Northern and Yorke Landscape Board, the Australian Government's National Landcare Program, the South Australian Department for Environment and Water, WWF-Australia and Foundation for National Parks & Wildlife.
Other partners actively involved in developing and delivering the project include Regional Development Australia, South Australian Tourism Commission, Zoos SA, FAUNA Research Alliance, BirdLife Australia, Nature Conservation Society of SA, Narungga Nation Aboriginal Corporation, Primary Producers SA, Primary Industries and Regions SA, Conservation Volunteers Australia, Legatus Group, Yorke Peninsula Council, Yorke Peninsula Tourism and Scientific Expedition Group.