Content Producer, WWF-Australia
I have a pretty cool job. Last weekend, I got the opportunity to escape the dreary, grey weather of Sydney and soak up some sun in Bowen, Queensland to film green sea turtles.
Having only been at WWF-Australia for a little over 4 months, it was my first field trip for work. I was both anxious and excited to experience firsthand the conservation work that our organisation is doing, whilst exercising my content collection chops out in the field!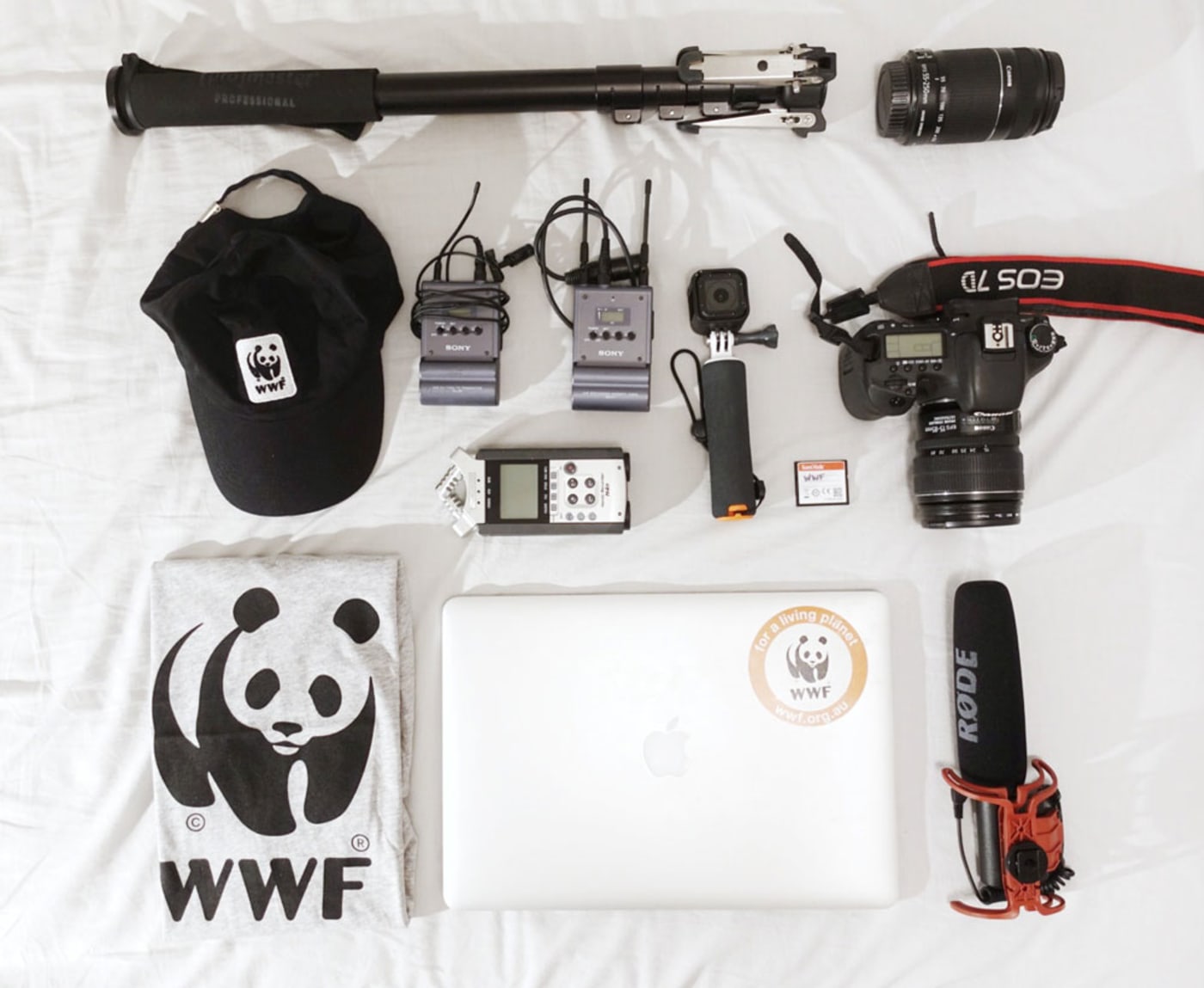 Armed with cameras, microphones and a bag full of spare batteries and SD cards, I was ready to capture the magic of sea turtles.
WWF-Australia works in partnership with the Gudjuda Rangers in Bowen to monitor and tag turtles. Tagging them plays a vital role in analysing whether the population is stable and how healthy they are. Healthy green turtles signify a healthy coastal ecosystem.
Not only do the rangers monitor turtles, they also do a wide range of work to protect their Land and Sea Country. It was inspiring to hear about their passion for their job as well as the historical significance of turtles to their culture.
After some insightful yarn on the port deck, it was time to head out into the pristine waters.
I didn't know what to expect when it came to turtles. My only previous knowledge about these marine animals came from the Disney hit film, Finding Nemo (not that I was expecting to meet a 150 year old stoner turtle named Crush or anything).
Luckily, I had many experts on board to teach me about turtles, like how to identify a female from a male (males have a longer tail).
It was amazing to see how easily the rangers could spot the turtles out in the water. I was squinting the entire day, trying to catch a glimpse of these turtles swimming but every shadow I saw always turned out to be just a rock.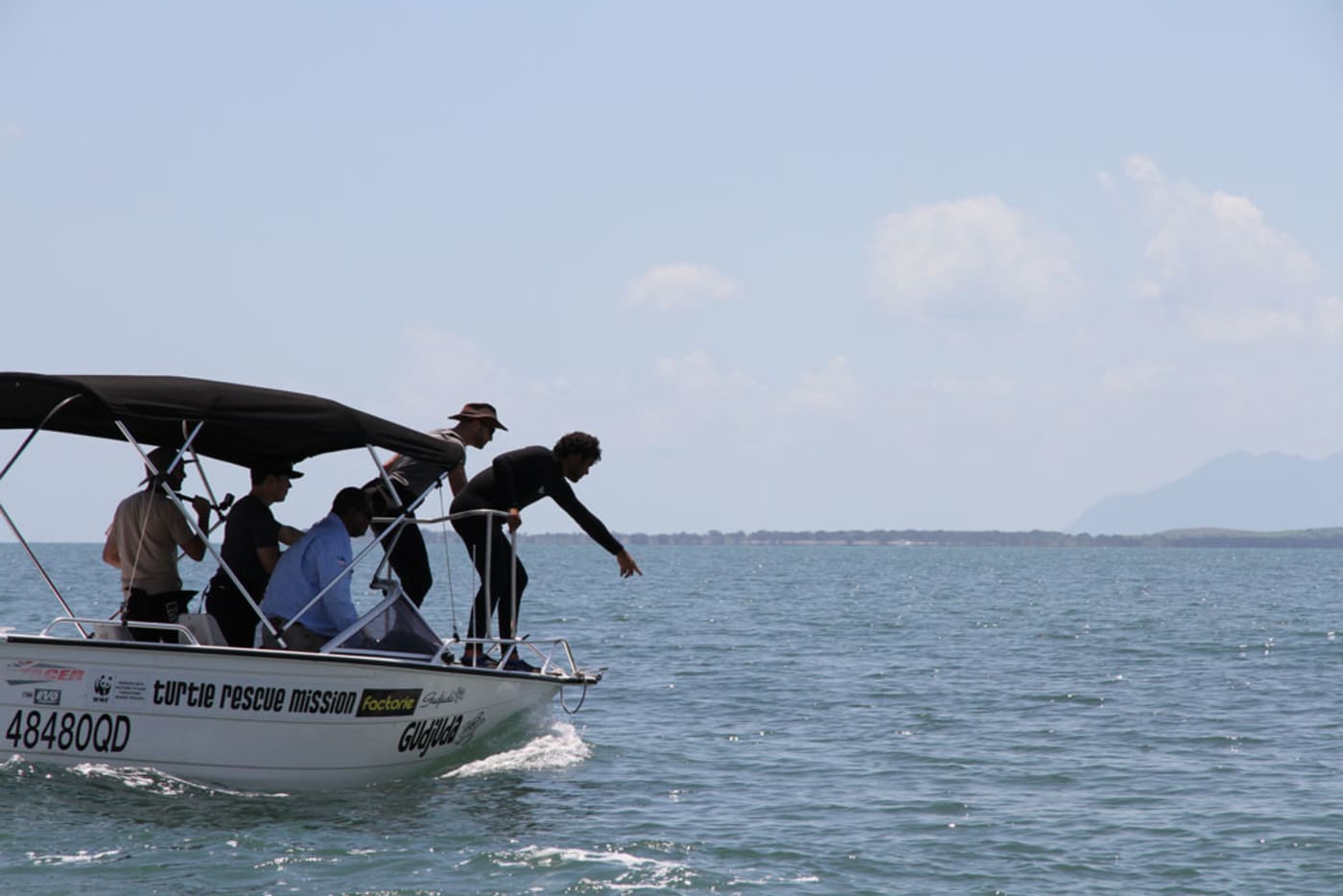 Once we caught a sight of a turtle, the chase was on. The boat cut through the waters, making sharp turns in order to not lose sight of these intelligent and fast swimmers. It was at this point that I realised there's a fine balance in holding an expensive camera and holding on to the side of the boat for dear life.
We lined up the boat alongside the turtle and… SPLASH. The ranger dived in.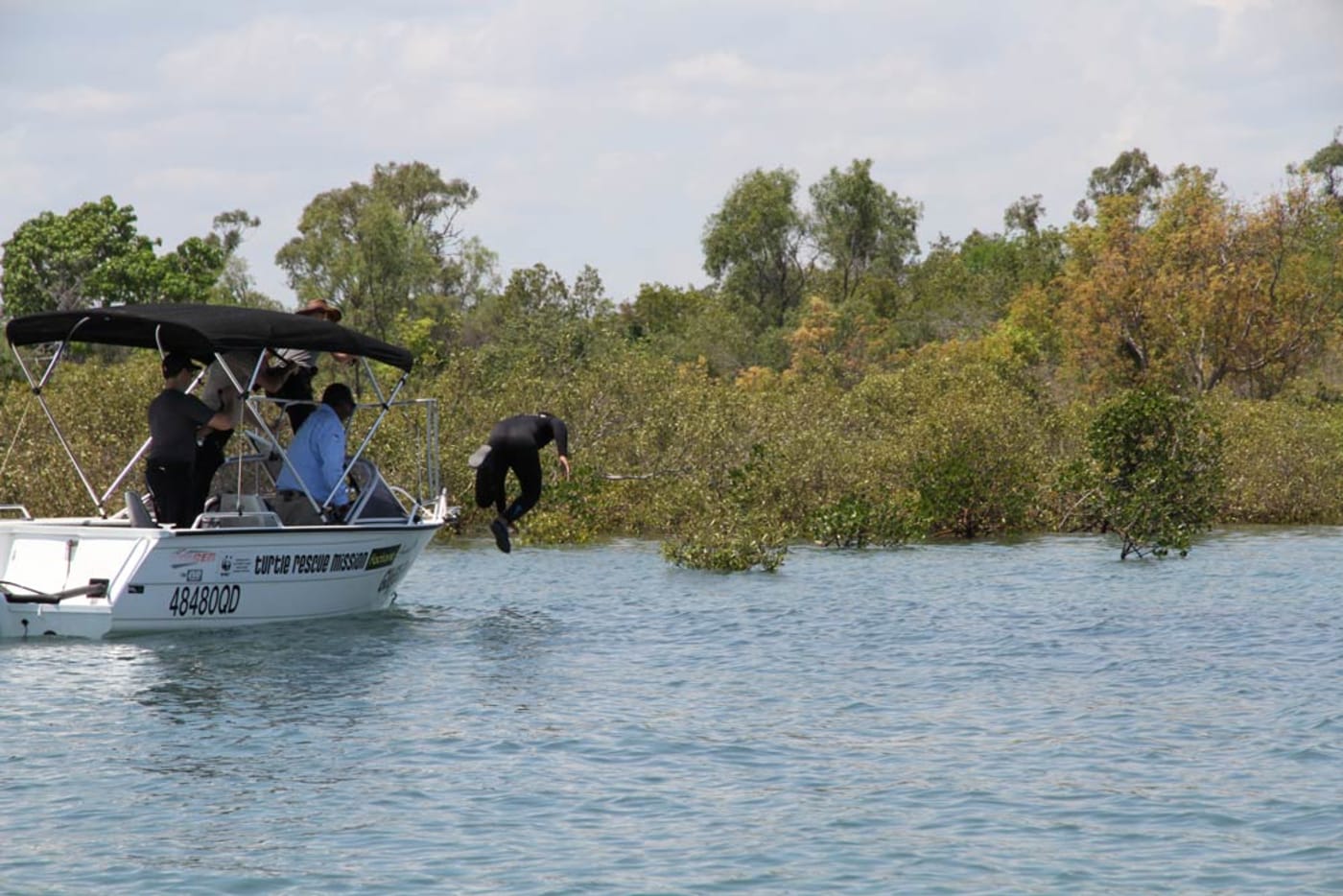 We held our breaths, waiting for a break in the surface to see whether this would be a successful catch. A few seconds passed and… he emerged with not just a turtle, but a MASSIVE turtle! Two other people had to dive in to help him get the turtle on the research boat.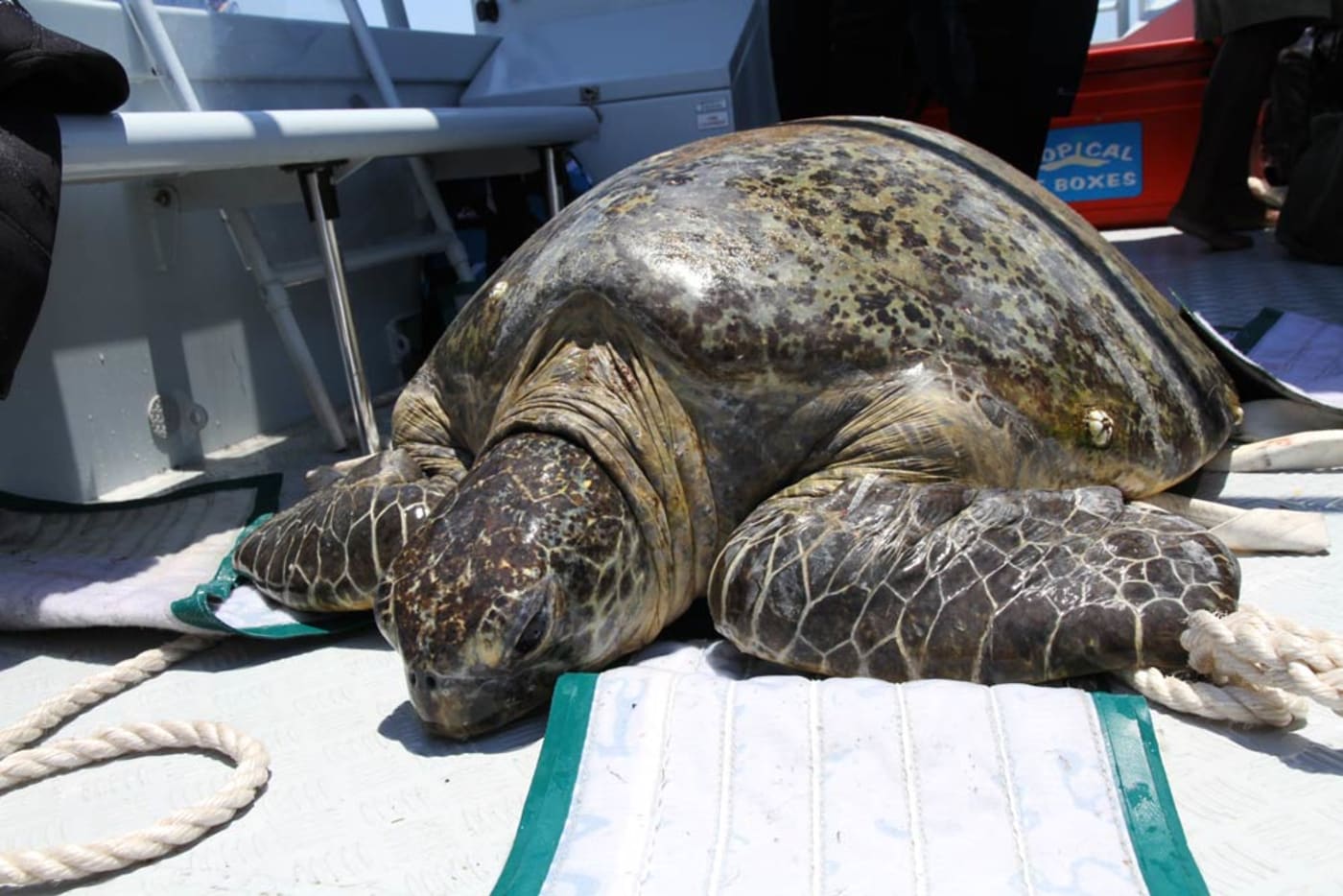 Once on board, the rangers began collecting the turtles biometrics. This included measuring her weight and the size of her shell. She was a whopping 140kg - one of the largest that the Gudjuda Rangers have caught. We tagged and released her back into the water… then started the whole process again!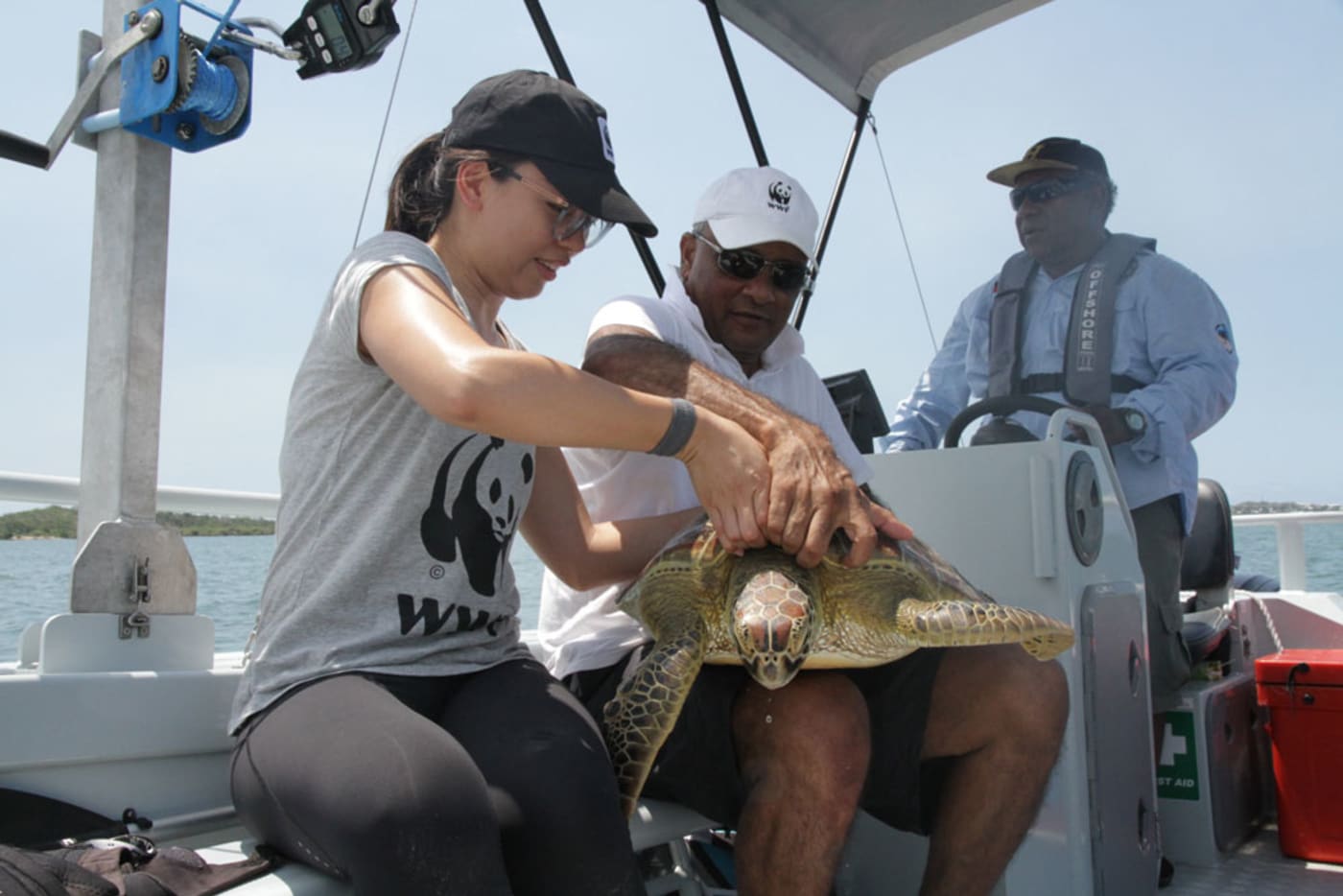 Here I am with Cliff Cobbo, our National Conservation on Country Manager, and a slightly smaller turtle. Not a 140kg turtle, thank goodness – my non-existent arm muscles would have cried.
Overall, I had an amazing time out in the field. I came back to Sydney a little exhausted and with some pretty interesting tan lines. Now, it's back to the office to sort through all the footage.
I'll leave you now with two of my favourite photos that I captured on the trip.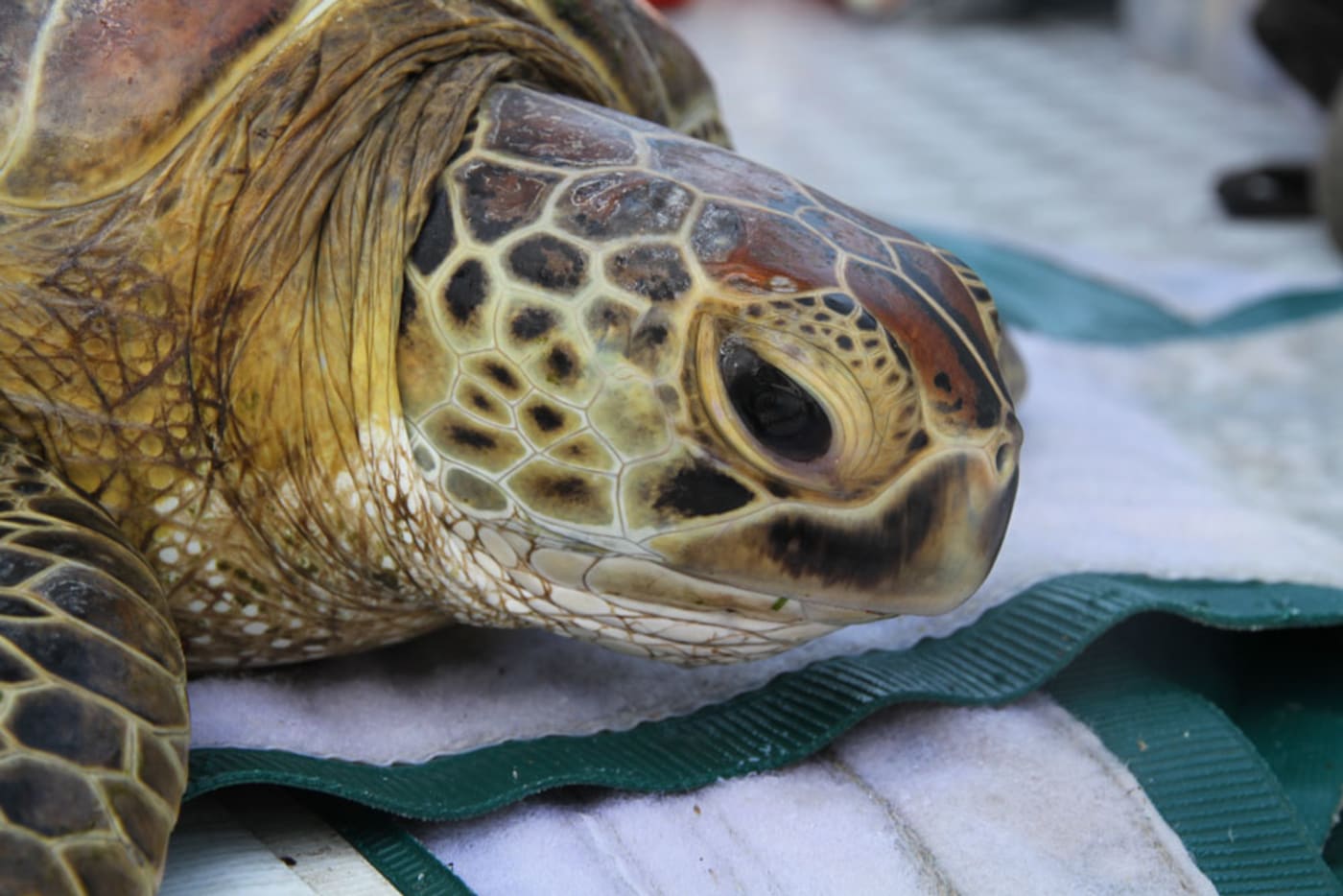 I love the eyes of sea turtles!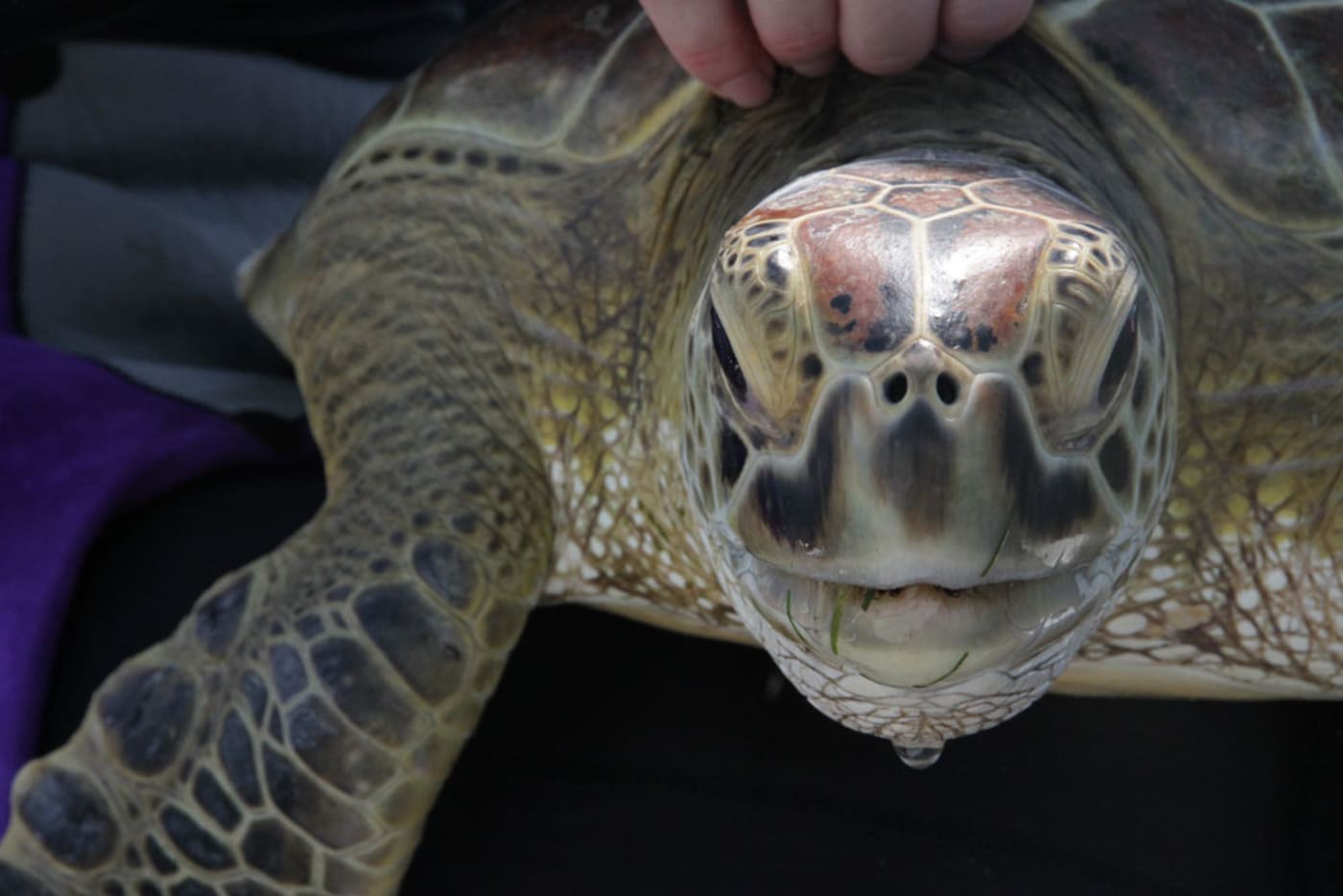 Gimme some fin, noggin', Dude! 🐢
Until the next adventure!