NOWHERE TO GO
If we don't act now, we could lose koalas in NSW forever.
Urgent: Koalas could be extinct in NSW as early as 2050. We can't let this happen.
Koalas in NSW have nowhere to go. Right now they're losing their homes and their lives to excessive tree-clearing. We need to protect the homes of koalas before they're gone forever. It's up to us to ensure future generations get to see these iconic Aussie animals in the wild. One minute is all it takes to make a difference for the future of koalas. Will you add your voice today?
Here's the email we're sending to stop excessive tree-clearing
This is what excessive tree-clearing looks like.
Excessive tree-clearing in NSW is putting koalas at risk of local extinction.
In the last year, the clearing of trees has nearly tripled in NSW. Hundreds of thousands of hectares of native bushland and forest have been cleared at an unsustainable rate. This has left vital natural habitats completely destroyed or fragmented.
Research shows that as well as being homes for our iconic animals, trees play an important role in reducing the effects of climate change. It means the loss of forests across the state can intensify and prolong dry conditions in drought-stricken areas.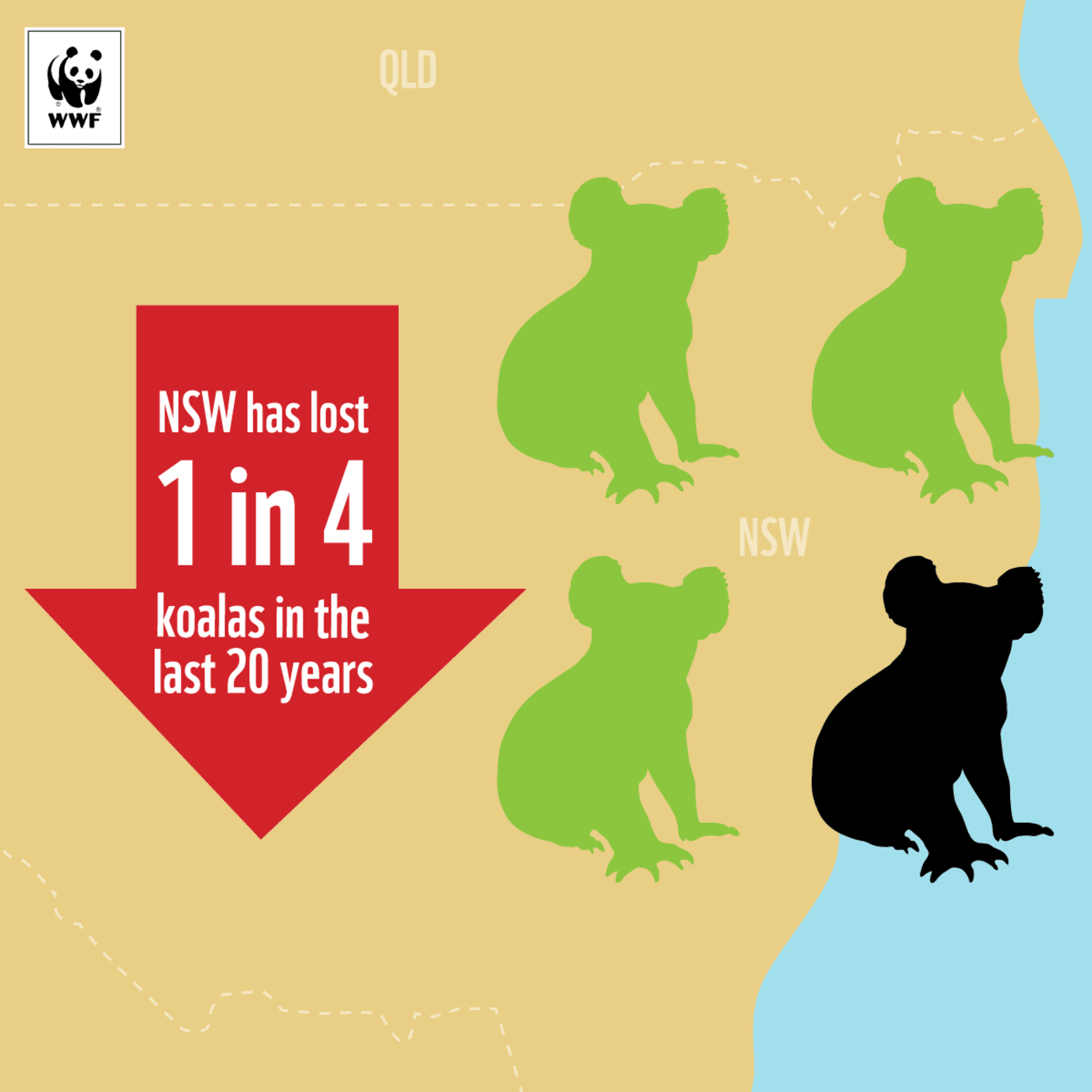 The deadly cost of excessive tree-clearing
Koalas live in eucalyptus trees in forests and woodlands, which they depend on for food and shelter. Sadly, the destruction and fragmentation of their habitat means they're forced on to open ground in search of another place to call home. It's during this time that they face being hit by cars, attacked by dogs or falling sick to diseases like Chlamydia.
We've already lost 1 in 4 koalas in the last 20 years. At this rate, koala populations could be extinct as early as 2050.
That's why WWF-Australia is working to protect koalas and their habitat. We're urging the NSW Government to introduce strong laws to stop excessive tree-clearing and give our native wildlife a chance to thrive.