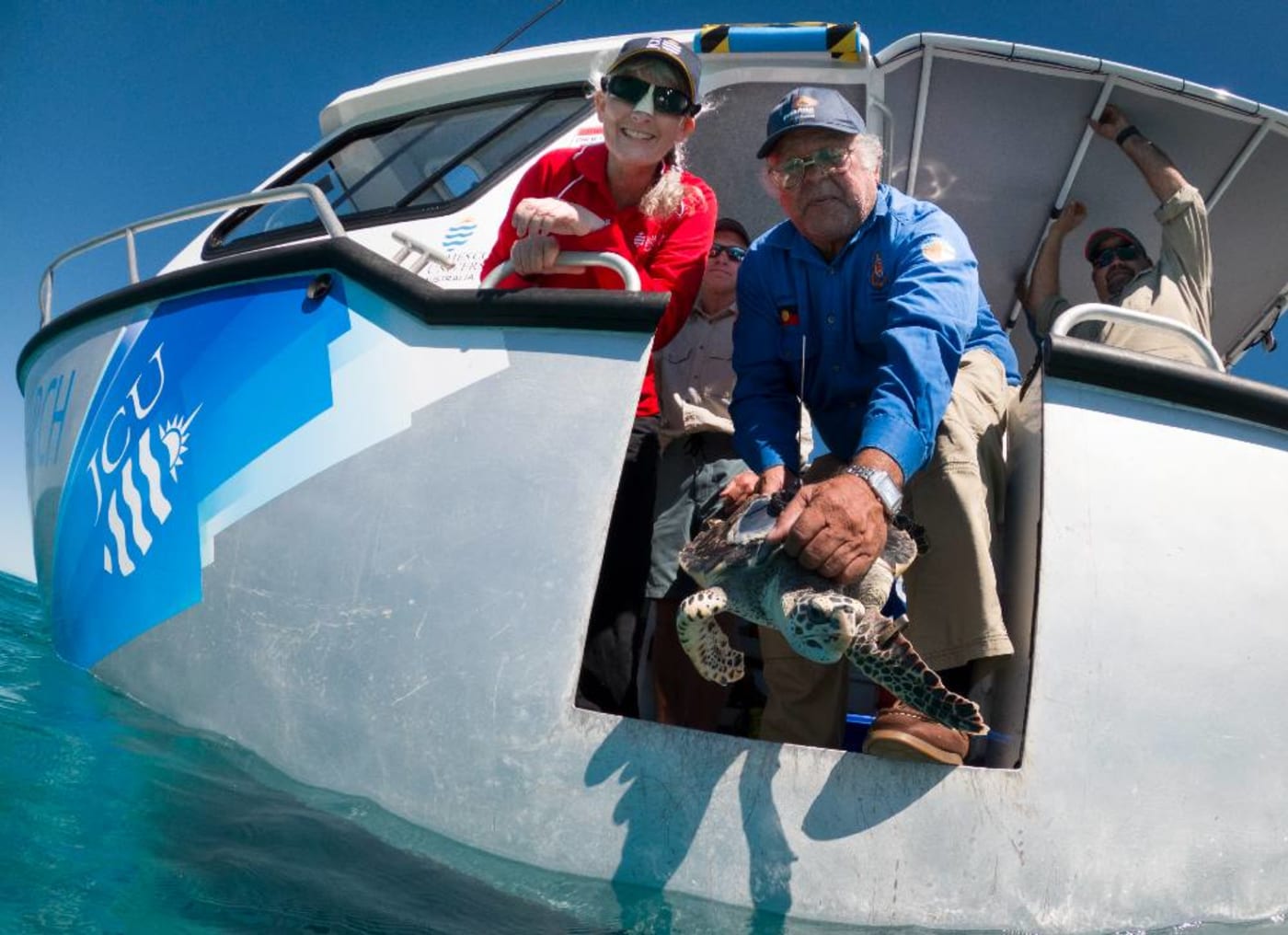 Eleven turtles, raised at James Cook University from the time they were hatchlings, have been released on the Great Barrier Reef, experiencing the ocean for the first time.
The two-year-old hawksbills are part of groundbreaking research, assisted by the World Wide Fund for Nature-Australia and Traditional Owner rangers, unlocking the secret life of sea turtle hatchlings.
The hatchlings of most species of sea turtle swim to the open ocean and only return to coastal waters years later when they are much bigger.
Their time in the open ocean is known as "the lost years" because little is known about their behaviour.
But JCU scientists have uncovered fascinating revelations about the early life of turtles, including significant differences between green and hawksbill turtles.
Hatchlings from both species were collected on Milman Island in the northern Great Barrier Reef and transported to JCU's Turtle Health Research Facility arriving on 31 March 2019.
Professor Ellen Ariel and her research team have nurtured and studied the hatchlings ever since. WWF-Australia funded special cameras so their behaviour could be observed 24/7.
"We've discovered greens and hawksbills are as different as chalk and cheese," said Professor Ariel, the facility director.
"Greens are attracted to colours associated with the surface such as red, orange and yellow while hawksbills are drawn to colours linked to deeper water such as blue and green."
"Greens are active all day and sleep at night. Hawksbills are active on and off during the day and night."
"Greens are like wind-up toys swimming non-stop near the surface. Hawksbills relax on the bottom spread out like a starfish."
"Both the greens and hawksbills started life weighing just 20 grams, but conserving energy has paid off for the hawksbills."
"After just over two years, the hawksbills weigh between 5kg and 8 kg, while the heaviest green is only about 1kg."
"The irony is that in adulthood greens are much bigger and heavier than hawksbills," she said.
In early May, the hawksbills were released on John Brewer Reef more than 70km north of Townsville in an exciting day for Professor Ariel and her team.
"It's really wonderful to think that those little turtles that we've cared for since they were little babies are now on the Reef," Professor Ariel said.
They had never been in the ocean or seen the Reef, but the hawksbills made themselves at home immediately, nudging a sea cucumber, interacting with fish, wedging themselves under coral, and moving across the sand in foraging behaviour.
In a welcome sight for the researchers, the hawksbills instinctively turned side-on to make themselves look bigger at the first sign of danger, despite never before encountering a predator.
"Releasing the hawksbills is bitter sweet. It's absolutely amazing to watch them swim off into their natural environment but obviously we're going to miss them a lot," said PhD candidate Rebecca Diggins, whose photographs documented the growth of the turtles.
It was also a significant occasion for Birri Gubba Juru Elder and Gudjuda senior ranger Jim Gaston, who has been involved in turtle research for more than 20 years.
"It's important for us to return back to yunga yalga, which is mother earth and the sea, what we take. So by returning and releasing the gungu or sea turtle that's our part in the big picture," Mr Gaston said.
The hawksbills were fitted with satellite trackers, funded by WWF-Australia, to improve our understanding of this critically endangered species.
Researchers will follow the turtles' activity for about seven months while the batteries last and then eventually the trackers will fall off.
Staff from JCU's Turtle Health Research Facility showed Gudjuda and Girringun Rangers how to attach the trackers.
WWF-Australia Indigenous engagement manager Cliff Cobbo, a proud Wakka Wakka man, acknowledged Professor Ariel's long-term working relationship with local Indigenous rangers.
"Saltwater people want to be at the pointy end of the research. They want to integrate their knowledge, which goes back thousands of years. Marrying Western science and traditional knowledge is the best way to conserve turtles for future generations," Mr Cobbo said.
Gudjuda Ranger Coordinator and Elder Eddie Smallwood has a special connection to turtles.
"My Aboriginal name is Gungu, which is the turtle. I'm very proud of that because it was passed down by the elders," Mr Smallwood said.
"The land and sea are part of our mother nature and we want to continue looking after our country. As a Bindal person, which is part of the Birri Gubba nation, it's great to be involved in this research because it's another way of healing our country," he said.
Girringun Ranger Andrew Congoo, who identifies as Jirrbal, Barbarum and Mamu, is concerned that not enough people know hawksbill numbers are rapidly declining.
"We need to raise awareness, otherwise they're going to be gone and we can't get them back once they're gone," he said.
The release of the hawksbills was assisted by the Reef joint field management program which involves the Great Barrier Reef Marine Park Authority (GBRMPA) and the Queensland government Department of Environment and Science (DES).
DES scientist Dr Ian Bell, who helped collect the turtles as hatchlings, also took part in the release, continuing his involvement in their unique journey.