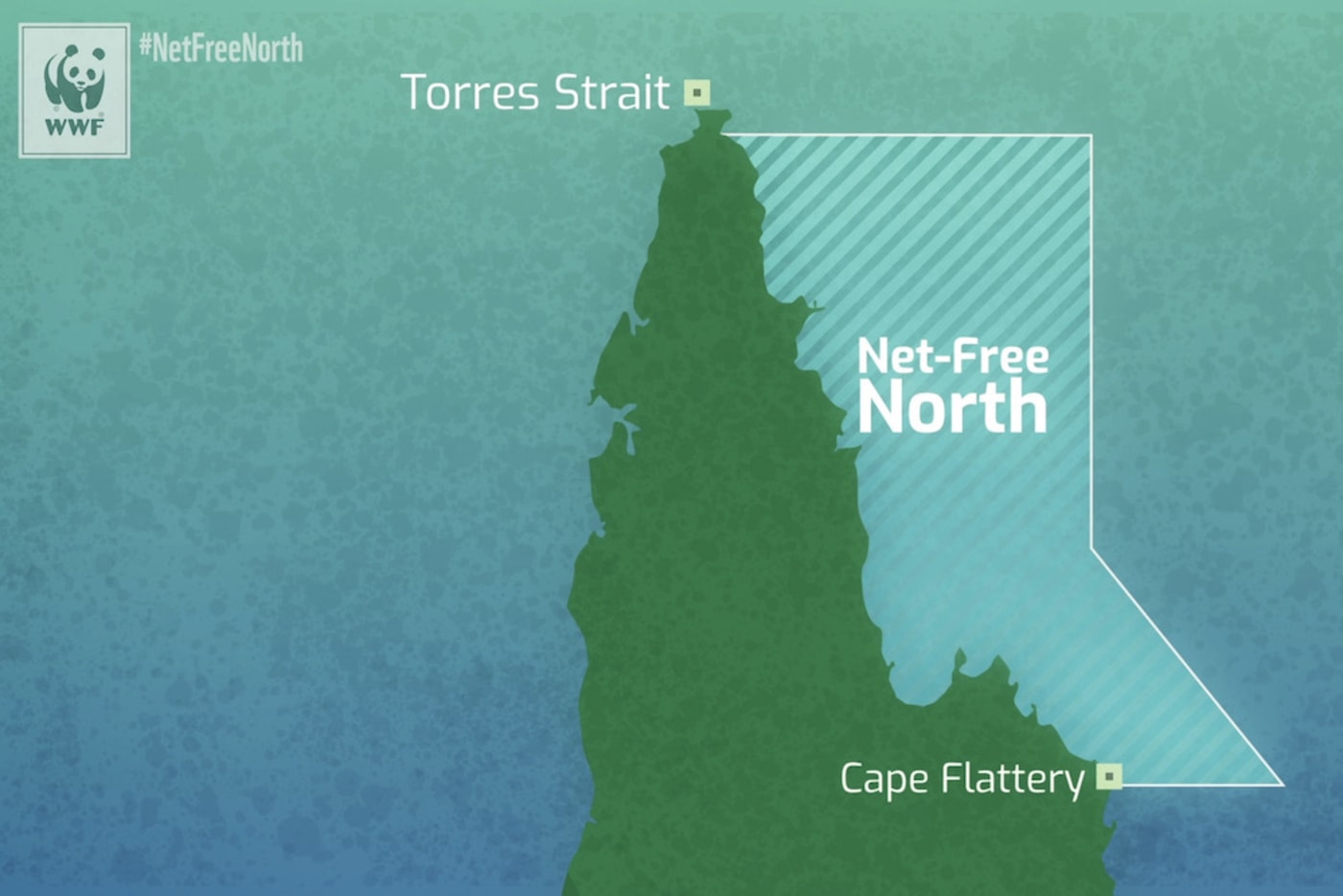 The World Wide Fund for Nature-Australia has effectively created a 100,000 square kilometre refuge where dugongs, inshore dolphins, and turtles can be free from commercial gill nets.
It stretches from Cape Flattery through to the Torres Strait in the northern Great Barrier Reef, an area larger in size than Tasmania.
To achieve this, WWF-Australia has just purchased and shelved the last commercial gill net licence holding a sizable quota for the region.
The seller, commercial fisher Tony Riesenweber, a Queensland Seafood Industry Association board member, said he was about to refit his 14 metre vessel, the Nelson Bay, and send it to the northern GBR to gill net fish for sharks, barramundi, and fingermark.
"Had WWF not approached me it would have been fishing by the opening of barra season which is now," Mr Riesenweber said.
This is not the first time WWF-Australia has taken this step. In 2018, WWF bought and shelved a commercial gill net licence with an even larger quota as it launched an ambitious plan to create the "Net Free North".
"It's not normal practise for a conservation organisation to buy and shelve commercial net fishing licences. But it was a practical way to remove the threat of gill nets from a section of the Reef incredibly important for threatened species," said Richard Leck, WWF-Australia Head of Oceans.
"Creating one of the largest safe havens for dugongs in the world is a globally significant initiative."
"Marine turtles, snubfin dolphins, sawfish, hammerhead sharks and the critically endangered Bizant River shark are just some of the other threatened species to benefit."
"By purchasing gill net licences WWF has done the heavy lifting. Now we're calling on the Australian and Queensland governments to create a special management area over the Reef's far north to permanently protect this area from commercial gill net fishing."
"WWF is also calling for the Australian and Queensland governments to establish additional net free zones in critical habitat along the Queensland coast to protect threatened species and create new tourism opportunities," Mr Leck said.
The latest aerial survey report, published in 2020, demonstrated the international importance of the northern Great Barrier Reef.
It estimated that north of Cape Flattery there are about 7000 dugongs and 282,000 large juvenile and adult turtles and stated the Reef's north "continues to support globally significant populations of dugongs and marine turtles".
The report said these findings suggest the Queensland Sustainable Fisheries Strategy 2017-2027 should "include further reforms to reduce bycatch of Matters of National Environmental Significance such as dugongs and marine turtles in the region, including electronic video surveillance".
One of the report's authors, internationally renowned dugong expert Emeritus Professor Helene Marsh of James Cook University, endorsed WWF's net licence purchases.
"Removing gill nets from the most important part of the Reef for dugongs can only be beneficial. It eliminates any chance that fishers will accidentally catch and drown dugongs," said Professor Marsh.
"This area remains a stronghold for dugongs and turtles and we need to do what we can to keep it that way," she said.
Gill nets are sometimes described as "walls of death" because they are indiscriminate killers. Dugongs, turtles, dolphins and other non-target species can easily become trapped and drown.
Recent incidents demonstrate the dangers of gill nets. In September 2018, Gudjuda Land & Sea Rangers found six sawfish, one with a piece of gill net still attached, and two dugongs washed up on the beach at Wunjunga, south of Townsville. Rangers believed they were all killed by gill nets.
In April 2018 at Llewellyn Bay just south of Mackay a female dugong was cut free from a commercial gill net. Luckily she was caught just before low tide and managed to keep her head out of the water long enough not to suffocate.
In October 2017, two snubfin dolphins were not so fortunate. They drowned in a commercial gill net near Bowen.
"The licences WWF has purchased will never be used for commercial gill net fishing again. WWF hopes to work with Traditional Owners to give them the opportunity to convert those licences to sustainable practices such as line or mud crab fishing, or to establish charter fishing and tour guide operations on their sea country to benefit from increasing tourist numbers," Mr Leck said.
Meantime, Mr Riesenweber is calling for recreational fishers to be licenced so that accurate data can be collected on what they catch. He says both commercial and recreational fishers must throw back undersized fish.
"We're all in this together because we've got one resource and it's shared by many sectors. We've got to support each other and manage the fishery properly for our future generations," Mr Riesenweber said.
Mr Leck said: "Australia's nature needs us now more than ever. If we're to Regenerate Australia and give our precious wildlife and wild places a fighting chance in a warming world, decisions like this one, creating a net free north across the iconic GBR world heritage site, benefit both people and nature, and should be our way forward."
About Regenerate Australia
Regenerate Australia is the largest and most innovative wildlife recovery and landscape regeneration program in Australia's history. Launched by WWF-Australia in October 2020, the multi-year program will rehabilitate, repopulate and restore wildlife and habitats affected by the 2019-2020 bushfires, and help to future-proof Australia against the impacts of changing climate. Australia's eastern koalas need support, you can add your support and help Regenerate Australia.