Known as gehrr to the Bandjalang People, glossies are a culturally important species
The population of one of Australia's rarest cockatoos has grown by at least one after glossy black-cockatoo parents successfully raised a chick in the Northern Rivers region of New South Wales.
The south-eastern glossy black-cockatoo, listed as vulnerable federally and in NSW, was already in decline when the 2019-2020 fires impacted as much as 50% of the Northern Rivers' glossy black-cockatoo habitat.
Last year, the Glossies Northern Rivers team conducted surveys in the project area for nearly three months before any glossies were even sighted.
So the discovery of an active nest was a huge win for an ambitious project to save the species across the region.
The breeding pair was found on 3 August 2022 in the Tweed Valley thanks to citizen scientists from the 'Glossy Squad' – everyday people helping the project by documenting sightings of glossies.
"Here was an incredible learning opportunity because the team had never before witnessed an active nest. It really felt like we'd struck gold," said Harry Hackett, Glossies Northern Rivers Project Manager, Wildbnb.
A sensor camera enabled discrete observations of mother Prez, father Mr Prez, and their daughter dubbed Firefly, a name inspired by a night soon after the nest was discovered when the surrounding forest erupted with tiny sparkling-red fireflies. 
In a hollow in a dead tree, Prez incubated her single egg virtually non-stop for about 30 days. Mr Prez foraged all day, returning at dusk. Prez would fly out to meet him, get her daily feed of regurgitated she-oak seeds, and immediately return to the nest. 
On a few evenings, the sensor camera captured Prez in full predator-defence mode with very clear "back off" warnings to a threat out of the camera shot – possibly possums which are known to eat eggs or chicks.
The team placed a sheet-metal collar around the base of the nest tree to prevent goannas – the other main predator – from reaching Firefly.
Once the egg hatched, Prez initially remained in the nest with Firefly to keep her warm. Each evening, Mr Prez fed his partner who would then further grind up the tiny she-oak seeds into a paste to feed their chick.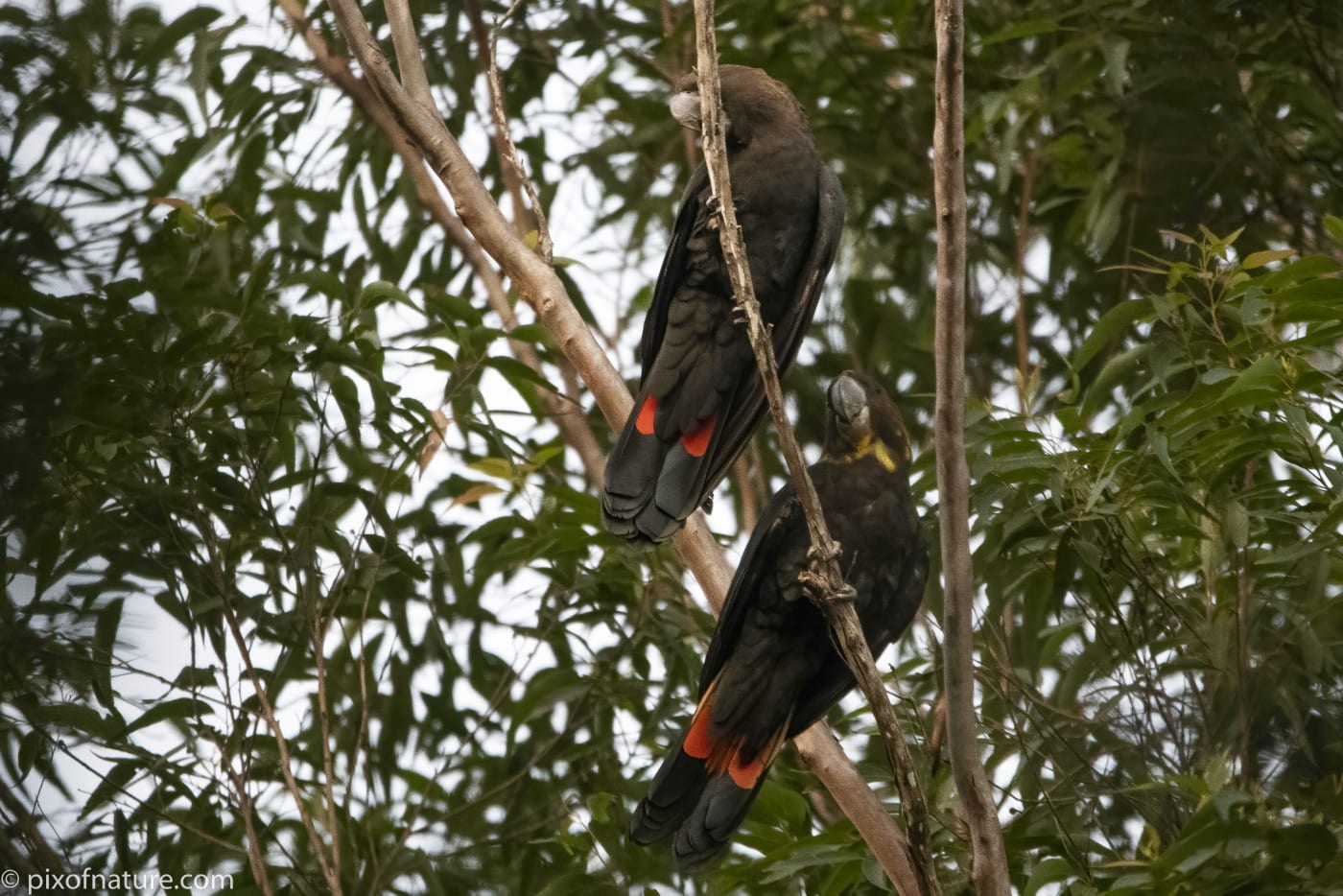 When Firefly was old enough to regulate her own body temperature and sit up by herself, Prez would leave the nest with Mr Prez at dawn, spend all day foraging with him and return to the nest at dusk to feed the nestling.
Prez would call out on approach prompting Firefly to launch into her vigorous begging call, desperate to be fed.
With a full tummy and back down inside the hollow, Firefly could be heard flapping her wings building strength for the day she would leave the nest.
At dusk on Wednesday 26 October 2022, that day arrived. Witnessed by Glossy Squad members, the much anticipated event was over in seconds. Firefly flew off with her parents. Glossy fledglings are completely reliant on, and fed by, both parents for 3 to 4 months after leaving the nest – so the team knew she was in good hands.
"Our hearts were singing that night. I went to bed smiling ear to ear. All I could think was 'Go well little Firefly, may your life be long, and may the survival of your species be helped by the great work of so many people and organisations across our region and all of South East Australia'. Because we do care and because we can take action that makes a real impact," Ms Hackett said.
It's a sentiment shared by Dr Leonie Valentine, Senior Manager, Species Conservation, WWF-Australia.
"The story of Firefly surviving to fledging is so uplifting – and shows how people truly care about many of our unique Australian species."
"Glossy black-cockatoos, spectacular long-lived birds, were already in decline throughout south-eastern Australia, when the catastrophic bushfires severely impacted the species."
"They feed almost exclusively on the seeds from Allocasuarina (she-oak) trees and many were destroyed as were old growth eucalypts with the hollows they require for breeding."
"Then in another blow, the 2022 floods further impacted glossy nesting and feeding habitat in the Northern Rivers."
"We're partnering with Glossies Northern Rivers to assist the recovery of glossies in the region by identifying remaining critical habitat, providing artificial nesting hollows to boost breeding success, and replanting critical food trees," Dr Valentine said. 
The project works closely with rangers from Minyumai Indigenous Protected Area, which covers over 2,100 hectares and is owned and managed by the Bandjalang people of the Bundjalung Nation.
In their culture, glossy black-cockatoos are called gehrr. The women rangers at Minyumai have taken a lead role in surveying for nest hollows, finding birds and mapping glossy food trees.  
"Since working with the Wildbnb team/Glossy Squad I have found a new passion working to help save the glossy black-cockatoos, gehrr, and gained skills on how to find their feed trees, bilung, and their nesting habitat. Working out on Country with the rangers has been a fun experience from installing the nest boxes, to finding big trees for hollow audits, to identifying the birds by their distinctive patterns and calls. Harry Hackett has been an amazing glossy mentor and I wish to continue working on the project alongside her as well as the Wildbnb team,'' said Minyumai Ranger Maitland Wilson.
The Wildbnb team has installed 48 artificial nest hollows across the region. There's a chance the dead tree Prez and Mr Prez nested in could topple over. So hollow alternatives were placed beside the nest site, ready for these amazing birds when they return to breed again.
It's hoped other breeding pairs will join them because glossies – who mate for life – prefer to nest near other glossy nests.
"I wish I had been able to witness Firefly's first flight.  Regardless, I am thrilled that she emerged, and I sincerely hope enough habitat remains and can be restored so that Firefly can call the Northern Rivers home for life," Dr Valentine said.
About Regenerate Australia
WWF's Regenerate Australia is the largest and most innovative wildlife recovery and landscape regeneration program in Australia's history. Launched by WWF-Australia in October 2020, the multi-year program will rehabilitate, repopulate and restore wildlife and habitats affected by the 2019-2020 bushfires, and help to future-proof Australia against the impacts of changing climate.
Find out more and help Regenerate Australia at:
Today, we're at risk of losing a thousand of our state's native animals and plants. Through the Saving our Species program, the NSW Government is working to secure a future for our threatened species in the wild for the next 100 years. Saving our Species is a movement of volunteers, scientists and community groups, determined to make a difference for Australia's unique plants and animals. To find out more, or to join the Saving our Species movement, visit: environment.nsw.gov.au/sos